---
Donate
Our mission is to support and encourage the foreign policy debate in Baltimore and the wider Middle Atlantic region. In a democracy like ours, we all need to be well-informed so we can monitor what our elected leaders are doing in foreign affairs and what they're failing to do.
Our dues are low to ensure everyone can afford to attend. Our aspirations are high: to objectively address critical and pressing issues in American foreign policy. Your contribution will enable us to continue delivering our programs and to expand our reach. All contributions –beyond members' dues – are a tax-deductible charitable donation. So please contribute!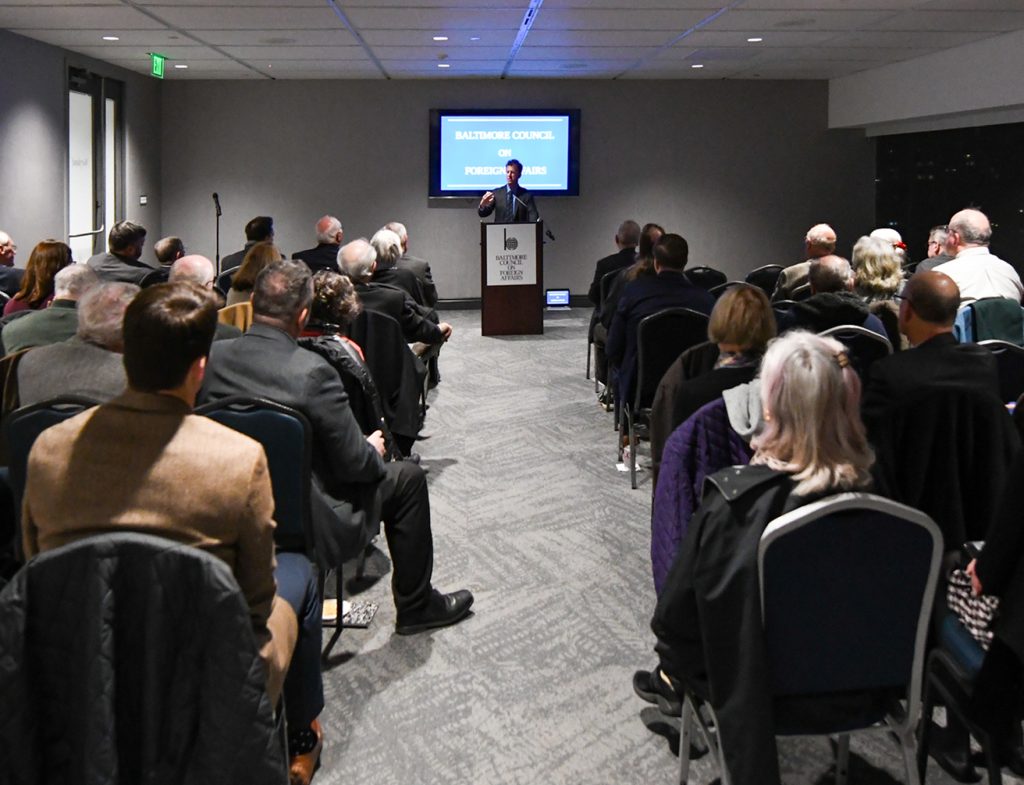 All donations other than membership dues are tax deductible.
To Members of the Council and the general public
In early May, a generous donor long associated with the Council offered a challenge grant of $25,000 – to be matched by members of the Council. The offer came in the nick of time, for the Council was about to go into deficit.
There was one condition – that members of the Board of Trustees pledge an additional $10,000.
Trustees quickly fulfilled its part of the deal, and our members have now committed more than $15,000.
We're grateful for everyone's support, for we're well along towards meeting the challenge grant. But we're not quite there yet – still about $5,000 short.
So, we appeal once again. Please consider any size gift – even $50 will help advance us towards the goal.
Staging an in-person event costs about $3000, including a videographer, and a gift of $1000 will cover a good part of the expenses. We'll happily note the contribution in our promotion.
As you know, the Baltimore Council is a 501c3 organization under the federal tax code, and your donation will be recognized by the IRS as fully tax deductible. The BCFA federal tax number — Federal ID Tax #52-117181.
Why the budget gap?
Like other foreign affairs councils around the country, the Baltimore Council had to suspend in-person events during the Covid outbreak but kept programs going via the Zoom live feed. Now we're back to doing in person programs as well as broadcasting all programs on Zoom. But in the period of no in-person events, both individual and corporate contributions have fallen.
We now want to resume our special programs for high schools and colleges. We've redesigned our website to make it more attractive to members and the general public, and we're posting blogs on the war in Ukraine and the civil war in Myanmar. Our next goal is to expand our staff to manage social media and other outreach as well as programs for high schools and colleges.
Every contribution will make a difference.
---
Roy Gutman, President and CEO
Ronald Harris, Chairman of the Board of Trustees
Click the button below to donate